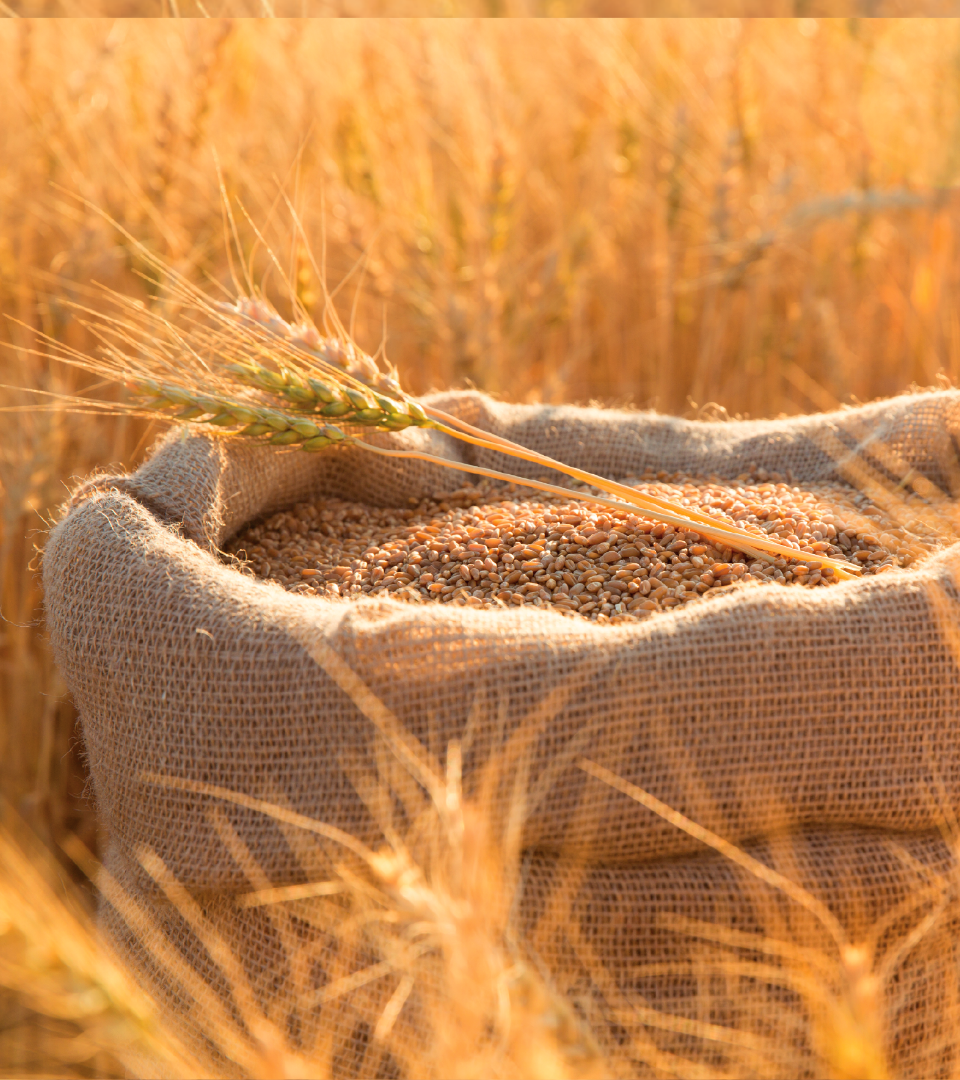 Inclusive Growth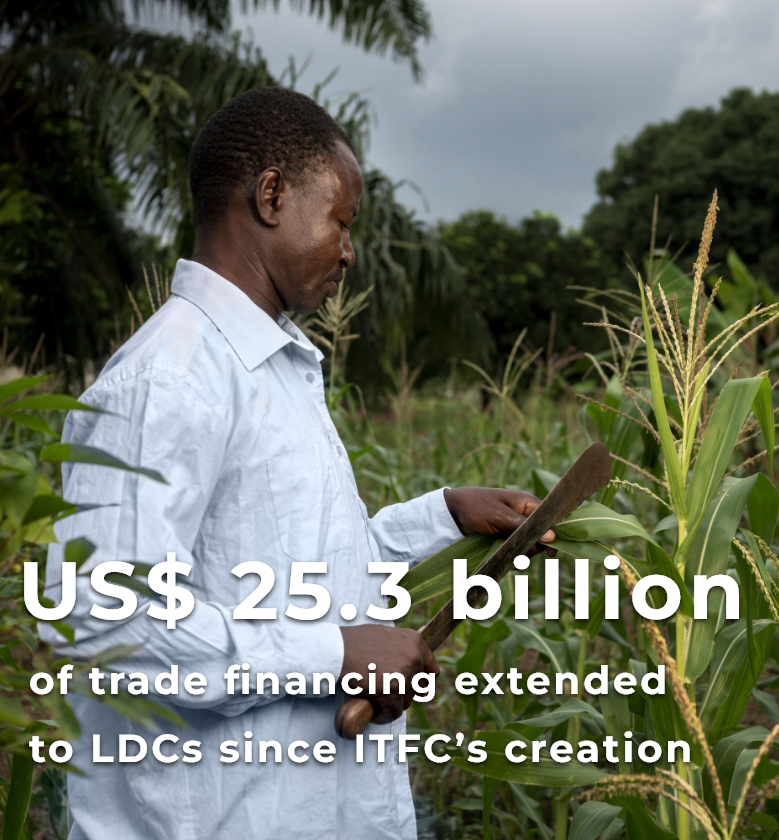 In 2022, ITFC disbursements towards LDCs reached an all-time high of US$ 2.2 billion, supporting the Corporation's strategy to address trade finance gaps where they are more acute.
The financing benefitted twelve countries and increased by 43 per cent compared to 2021.
Since inception, ITFC has extended US$ 25.3 billionUS$ 25.3 billion in trade financing to LDCs, of which US$ 6.7 billion were allocated to African LDCs.
The share of LDC disbursements in the ITFC portfolio is hovering around a third of the portfolio over the past five years.
To maintain and consolidate the LDC ratio, ITFC will build on its Strategy 2.0 which aims to increase its commitments to LDCs by targeting new markets and consolidating ongoing business.
In terms of sectoral allocation, the majority of LDC support went to the energy sector (77 per cent in 2022) and private sector development (10 per cent in 2022).
Raising the level of financial support in the healthcare and marginal sectors may help to further diversify the exports of the targeted LDCs.
LDCs Disbursements (million USD)
LDCs Disbursements by sector (million USD)
Private
Sector Development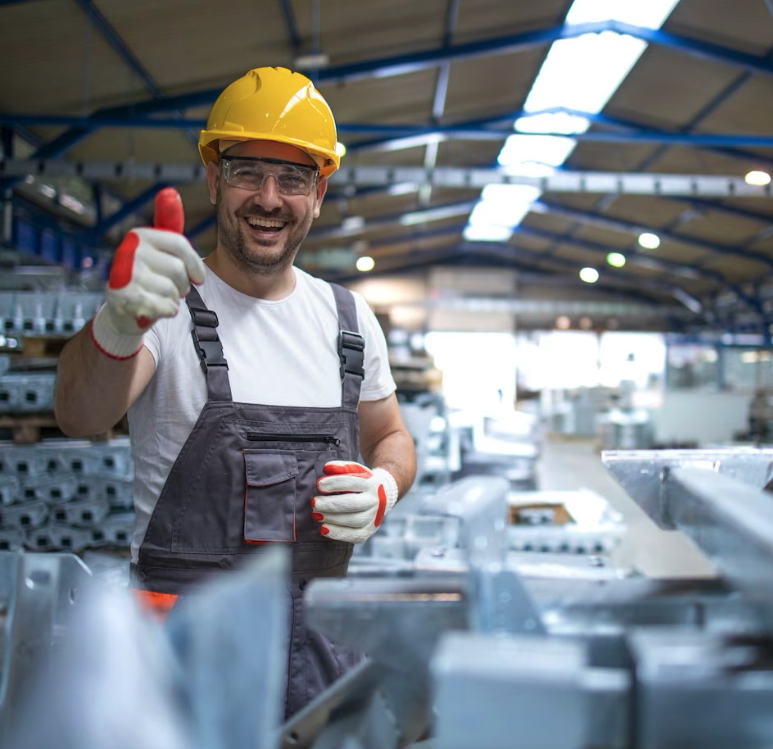 ITFC supports MSMEs and private firms either through direct trade financing to private sector entities entity (corporate financing) or through line of finance channeled through partner banks, to provide MSMEs with working capital to sustain their activities during economic downturns.
After a contraction in 2021, ITFC's private sector financial support regained momentum in 2022 to reach US$ 336 million.
The disbursed amount in 2022 represents an 86% YoY increase. Private sector financing was boosted by the addition of 8 new banks to the list of partner institutions in Member Countries, bringing the total number of ITFC private sector clients to 38, out of which 36 are partner banks.
The outreach of ITFC private sector financing can be further boosted through microfinancing facilities.
In 2022, ITFC private sector financing supported an estimated 180 corporations and MSMEs operating in member countries.
This represents a decrease compared with 2021 when ITFC facilities supported approximately 320 corporates/MSMEs. It also indicates an increased focus on large ticket transactions within ITFC's Line of Finance operations.The average value of loans went from US$ 0.4 million in 2021 to US$ 1.8 million in 2022.
A key lesson learned from ITFC's operations is the importance of microfinance facilities in increasing the outreach of the financing and supporting financial inclusion. ITFC is exploring ways to further increase the number of microfinance facilities within its portfolio.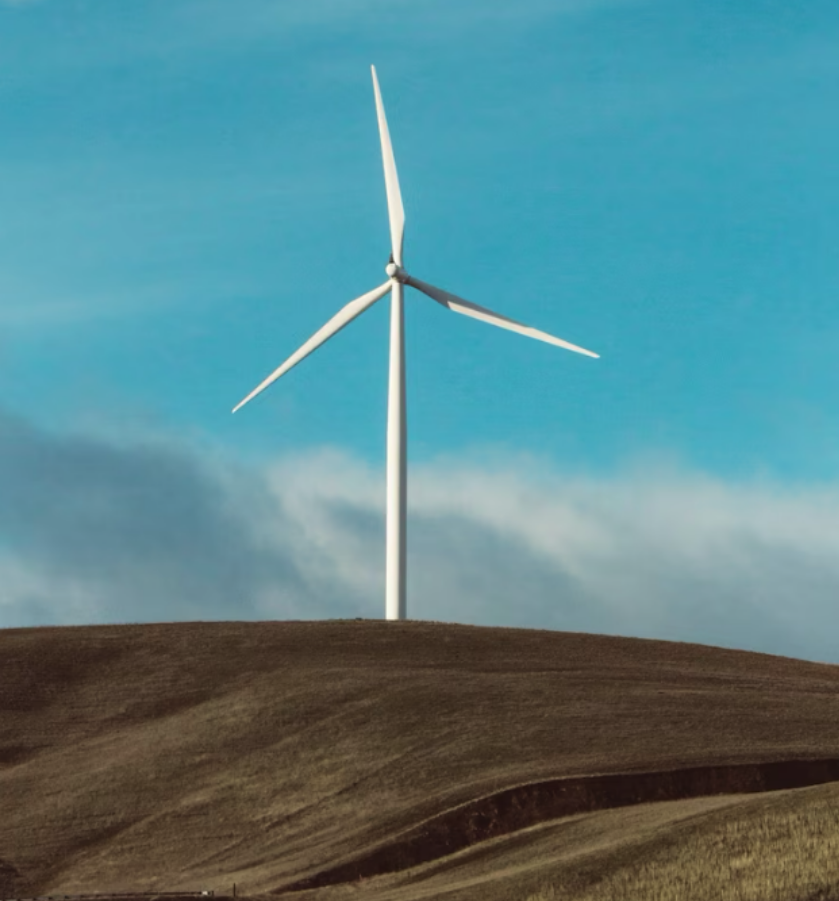 180
Corporates,
including MSMEs
---
have benefited from
US$
336


million
---
of financing
channeled through
Sustainability
ITFC increased its support to member countries access to reliable energy supply, safeguarding against power failures or disruptions to critical sectors of the economy
In 2022, ITFC disbursed US$ 4.2 billion in funding to the energy sector, up 8 per cent YoY. Rising demand and higher energy prices were among the main reason behind this increase. Based on an input-output model, it is estimated that 13 million people were provided with electricity as a result of ITFC financing. The share of LNG financing is hovering between 15% and 25% of the energy portfolio. There is room to further balance the oil and gas distribution in the portfolio, while exploring ways to finance clean and renewable energy.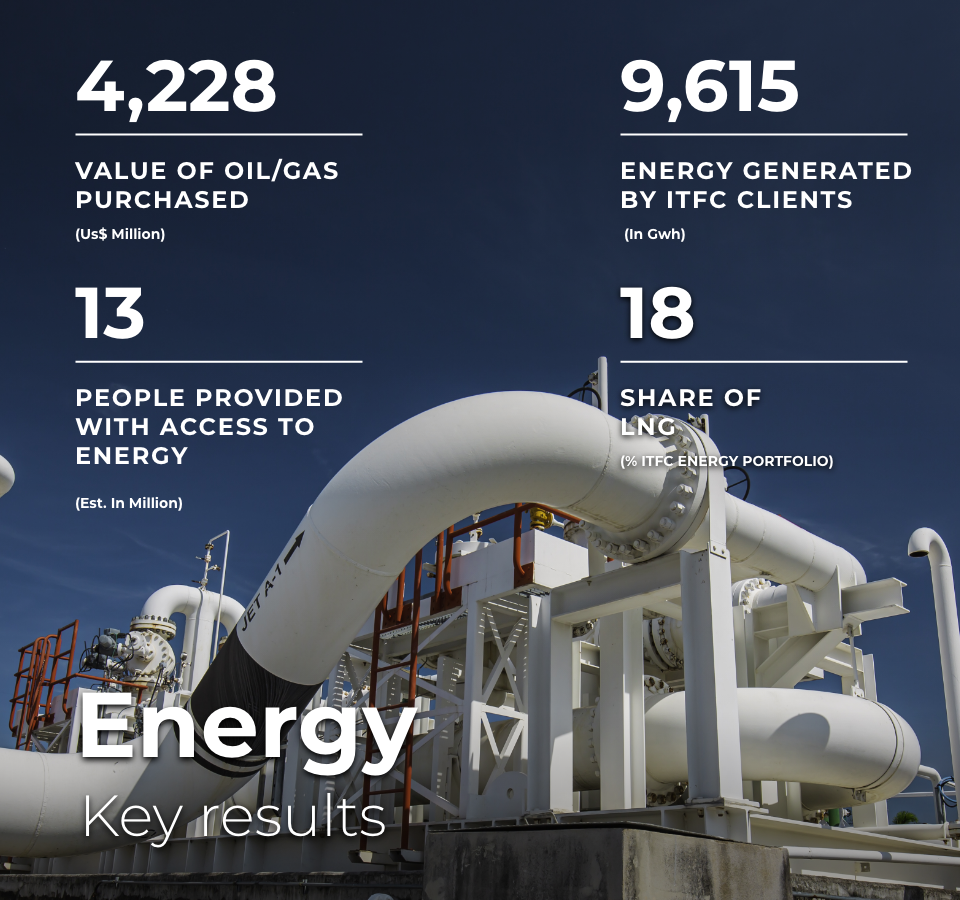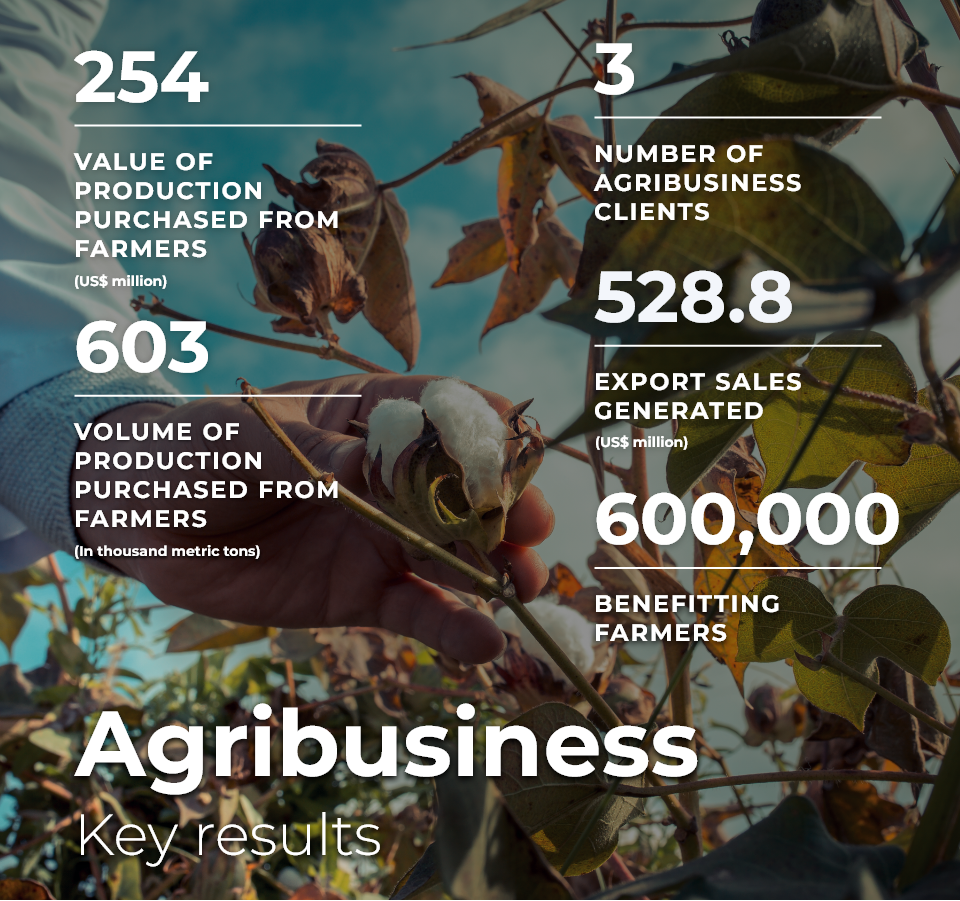 In the agribusiness sector, ITFC consolidated its support to contract farming schemes by providing pre-export finance to agricultural companies.
The financing enables ITFC clients to provide producers with the timely payment of their production, less than one month after collection. In 2022, ITFC extended US$ 254 million towards the agriculture sector. ITFC's clients collected around one million metric tons of agriculture commodities (cotton, groundnuts), out of which 60% were purchased through ITFC financing. The financing benefitted more than 600,000 farmers in Africa. In order to increase its outreach in the agriculture sector, ITFC is exploring opportunities to increase the number of agribusiness clients.
ITFC pre-export facilities were used for the purchase of:
523,841 mt of cotton, up 21% YoY
79,520 mt of groundnut, up 18%YoY
For food security, ITFC supported member countries in securing their strategic food reserves, while providing basic food staples at affordable prices, helping the poorest members of society.
In 2021, ITFC disbursed around US$ 2 billion to import 3.8 million metric tons of food commodities (mainly grains). ITFC food financing increased by 150 per cent YoY and benefitted around 22.4 million households in member countries. Egypt was the main beneficiary of ITFC's food financing.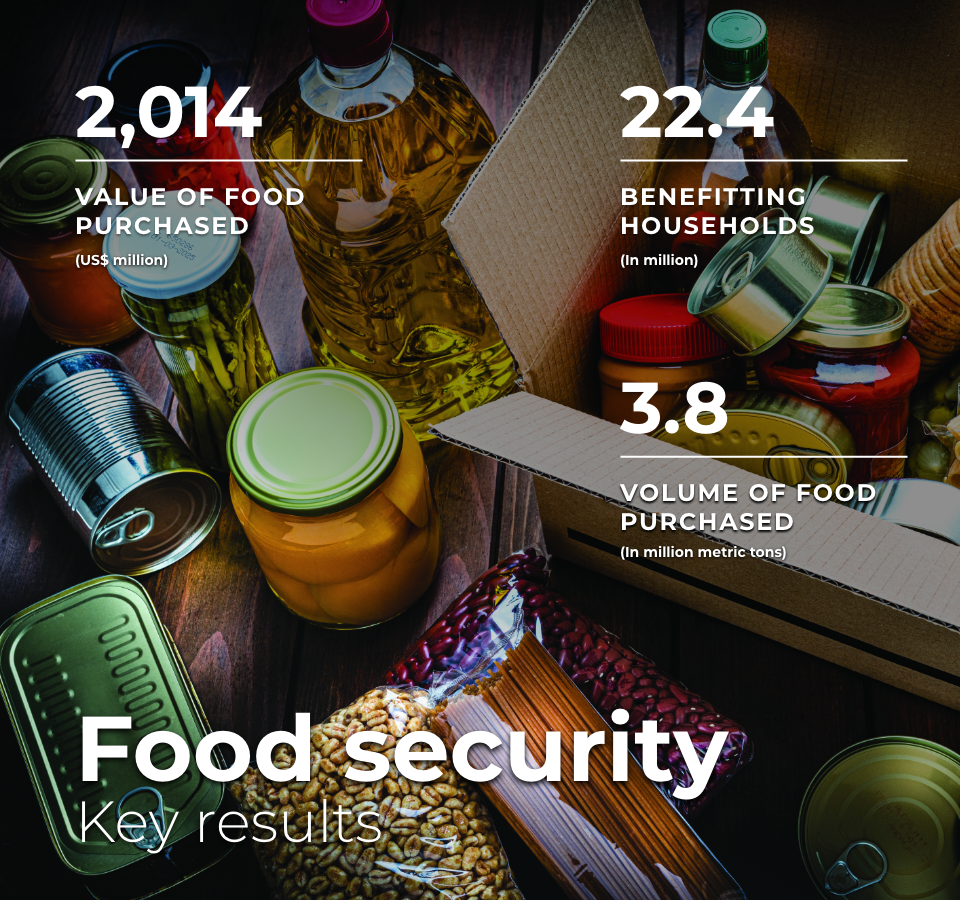 For many member countries, the sharp increase in commodity prices resulted in rising energy and food import bills. By the end of 2022, the global food import bill reached an all-time high of $1.94 trillion, marking a 10 per cent increase from the previous year record (WFP, 2022).
ITFC is a key contributor to the USD$ 10.5 billion comprehensive Food Security Response Program (FSRP) of the IsDB Group. ITFC committed to US$ 4.5 billion in trade financing for the three year's program, out of which US$ 1.8 billion have already been allocated to 7 Member Countries in Africa and Asia.
Environmental and climate change remains a target area for improvement.
In 2023, ITFC will adopt is first climate change policy and will define operational procedures to ensure its operations and the projects it supports demonstrate a commitment and contribution to the Global climate goals.
About 49 per cent of ITFC clients reported having a well-established/certified environmental management system and a sustainability policy. This means that ITFC can leverage its advisory services to further build capacity at the client level on environmental compliance.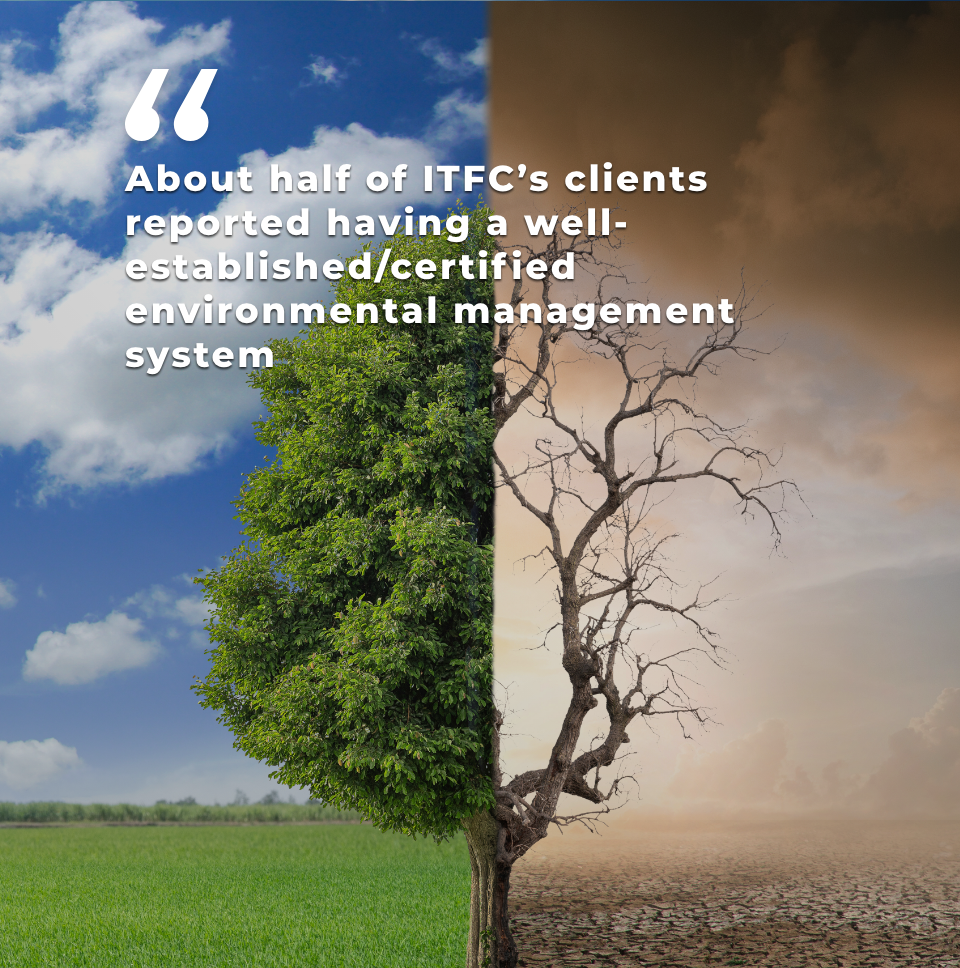 Technology, skills
and innovation
Overview of grants-funded intervention (completed and ongoing, as of Dec 2022)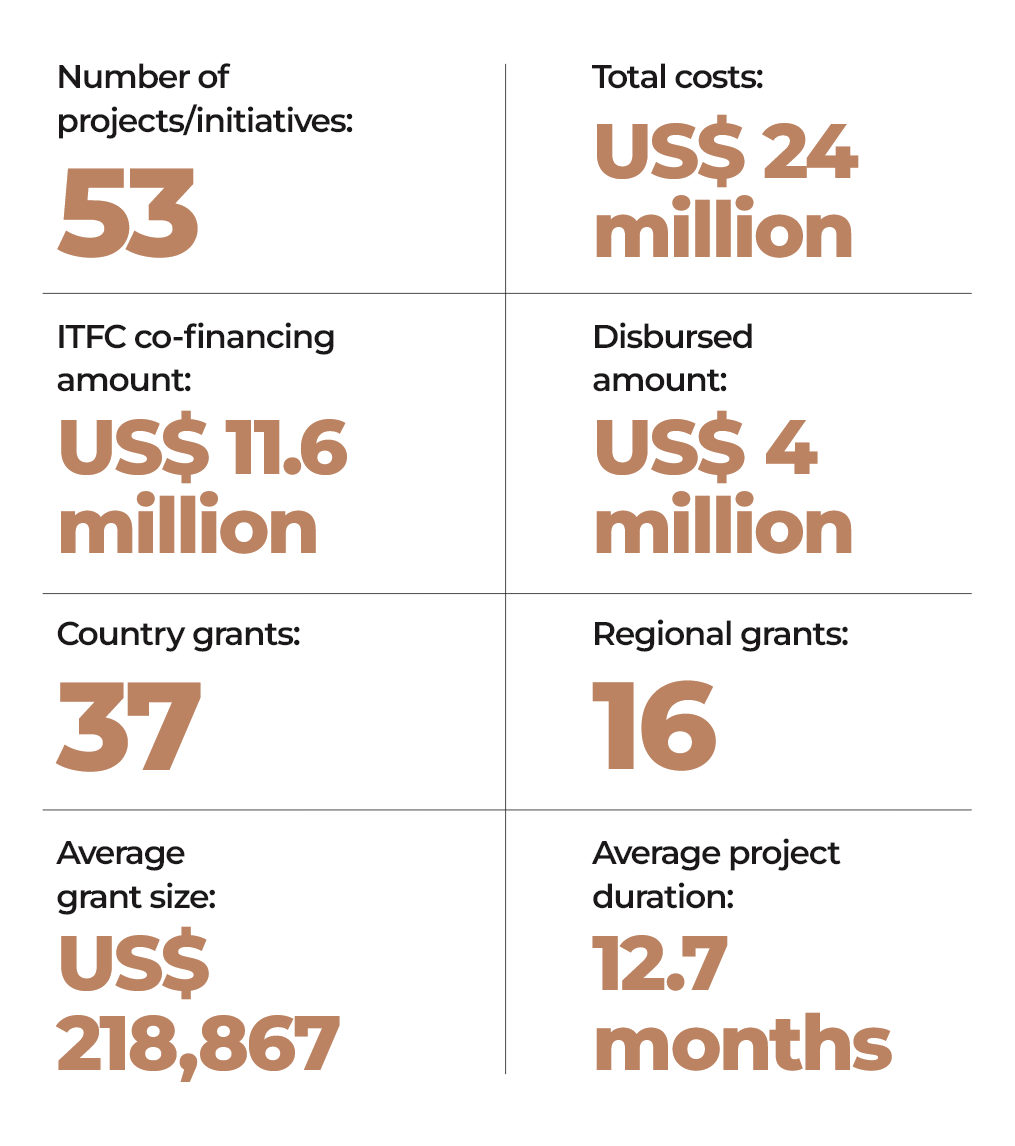 Capacity building represents an important intervention area for ITFC's portfolio, reflected by the rise in trade development interventions.
In 2022, the organization supported the multilateral effort of ITC in Morocco and Egypt to increase the participation of women-owned SMEs in export-oriented value chains by enhancing their competitiveness and capacity to penetrate both local and regional markets.
Additionally, it emphasized efforts on resilience during the COVID pandemic via online training for Islamic Finance, agriculture, and export development.Such activities represent opportunities for growth for ITFC to support fragile countries as well as enhance the penetration of SMEs and the private sector in member states.
In 2022, ITFC grants contributed to the training of 1,218 people, up 238% YoY. The sharp increase is related to the roll-out of the Coffee Export Development Program in Indonesia, which is building capacities of coffee farmers.
Overall, ITFC's trade development programs are tackling key impact sectors for the organization's member countries and its ambition to strengthen its ESG services value proposition. The organization can still further explore other areas that can expand its current portfolio and enhance its delivery of dedicated ESG solutions as part of trade finance transactions.
Distribution of grants by type of interventions
(in US$ million)
Stories of change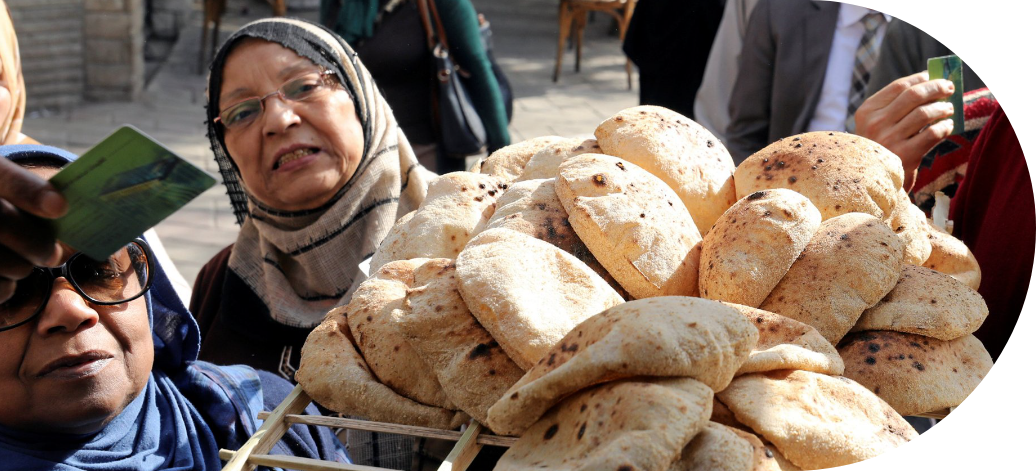 Bread for all
The Baladi bread
program in Egypt
The wheat policy is of strategic importance to the Egyptian Government to assure the food security of all Egyptians. The crop represents almost 10 percent of the total value of agricultural production and about 20 percent of all agricultural imports. Wheat is the main energy source in terms of daily calorie intake in Egypt and the consumption of bread is fundamental to the Egyptian diet (FAO, 2015).
in 2014, the Egyptian government introduced an ambitious and innovative program to reduce waste and to guarantee bread for all.
A smart-card bread subsidy system was introduced, allowing card owners a fixed ration of five loaves of bread per person per day, at a price of only 5 piastres a loaf, less than one U.S. cent. Around 22 million households benefits from the food subsidy program.
The government purchases wheat both from imports and from domestic production to produce subsidized Baladi bread (FAO, 2015).
In a context of soaring food prices and disruption in the supply chain, ITFC stepped up its support to the Government of Egypt by providing US$ 1.97 billion to purchase 3.7 million tons of food commodities.
1,970
Value of food purchased
(US$ million)
22
Benefitting households
(in million)
3.7
Volume of food purchased
(in million mt)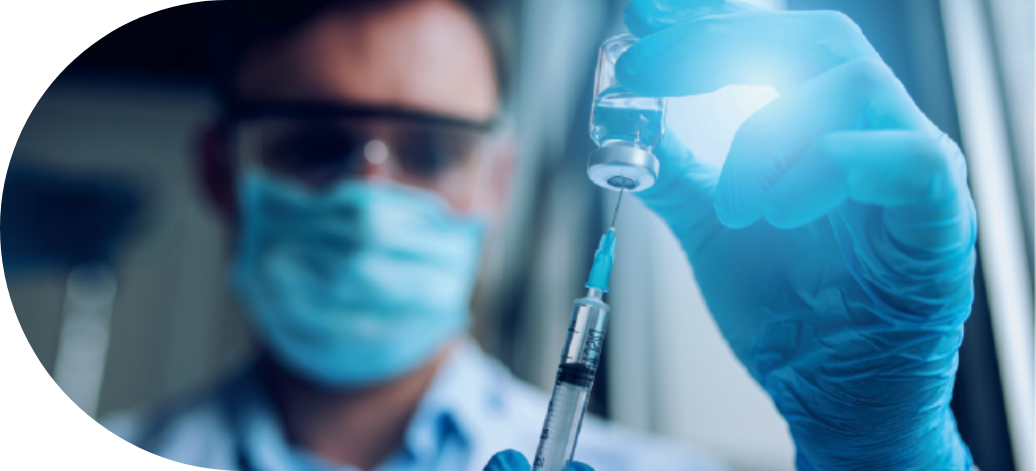 Securing
Access of the African continent to COVID 19 vaccines
As of December 2021, only 33% of health workers and 10% of seniors were fully vaccinated in Africa (WHO, 2022). The economic recovery of the continent was jeopardized by the subsequent waves of the COVID 19 and the limited means available to mitigate the health crisis.
To ensure widespread access to COVID-19 vaccines across Africa and support the countries' mass vaccination campaigns, the African Union launched in November 2020 the African Vaccine Acquisition Trust (AVAT) which aims to complement initiatives such as COVAX and attain a target immunization of 60 per cent of Africa's population.
A historic procurement Agreement was signed on March 2021, based on which all African Union Member States, through the African Vaccine Acquisition Trust (AVAT), will have access to 220 million doses of the Johnson & Johnson single-shot COVID-19 vaccine, with the potential to order an additional 180 million doses.
In 2022, ITFC disbursed US$ 250 million in favor of the Afreximbank. The facility supported the Bank in its efforts to support the AVAT initiative with the goal to ensure easy, expedited, and affordable access to Covid-19 vaccines through the AVAT scheme. ITFC financing was used to purchased 33.3 million vaccine doses benefitting 22 countries in Africa.
250
Value of vaccines purchased
(US$ million)
33.3
Vaccines doses purchased
(in million)
22
Benefitting
countries
TIER III - Results
Development Results
Development theme
Indicator
Source
Baseline (2017)
Results (2021)
Results (2022)
YoY trend
Indicator
Source
Baseline (2017)
Results (2021)
Results (2022)
YoY trend

LDC Financing (% of portfolio)

Self-assessment
30
30
30

LDC financing (US$ million)

Self-assessment
1,034
1,571
2,252

Direct jobs supported

Self-assessment
---
116,000
110,272
Indicator
Source
Baseline (2017)
Results (2021)
Results (2022)
YoY trend

People provided with access to electricity

Model-based
10.4
11
13

Energy Generated (#GWh)

Self-assessment
---
---
9,615

Renewable energy, share of portfolio

Corporate database
0
0
0

Health Patients served

Self-assessment
---
25,000
---

Farmers reached – Trade Finance

Self-assessment
600,000
600,000
600,000

Export Sales (US$ million)

Self-assessment
---
416
528.8

Households provided with access to food (# millions)

Self-assessment
---
28
22,4

LNG, share of energy portfolio

Corporate database
---
22
18

Clients with an environmental policy (share)

Self Assessment
---
42
49
Private Sector Development
Indicator
Source
Baseline (2017)
Results (2021)
Results (2022)
YoY trend

Number of corporates and SMEs provided with access to finance

Self-assessment
---
320
180

Average value of loans (US$ million)

Corporate database
---
0.4
1.8

Active Private sector clients

Corporate database
13
30
38
Technology, skills and innovation
Indicator
Source
Baseline (2017)
Results (2021)
Results (2022)
YoY trend

Number of people trained

Self-assessment
539
289
1,218

SMEs/Banks trained

Self-assessment
---
120
120

High-Tech trade (share of portfolio)

Corporate database
0
0
0
on track
on watch
off track