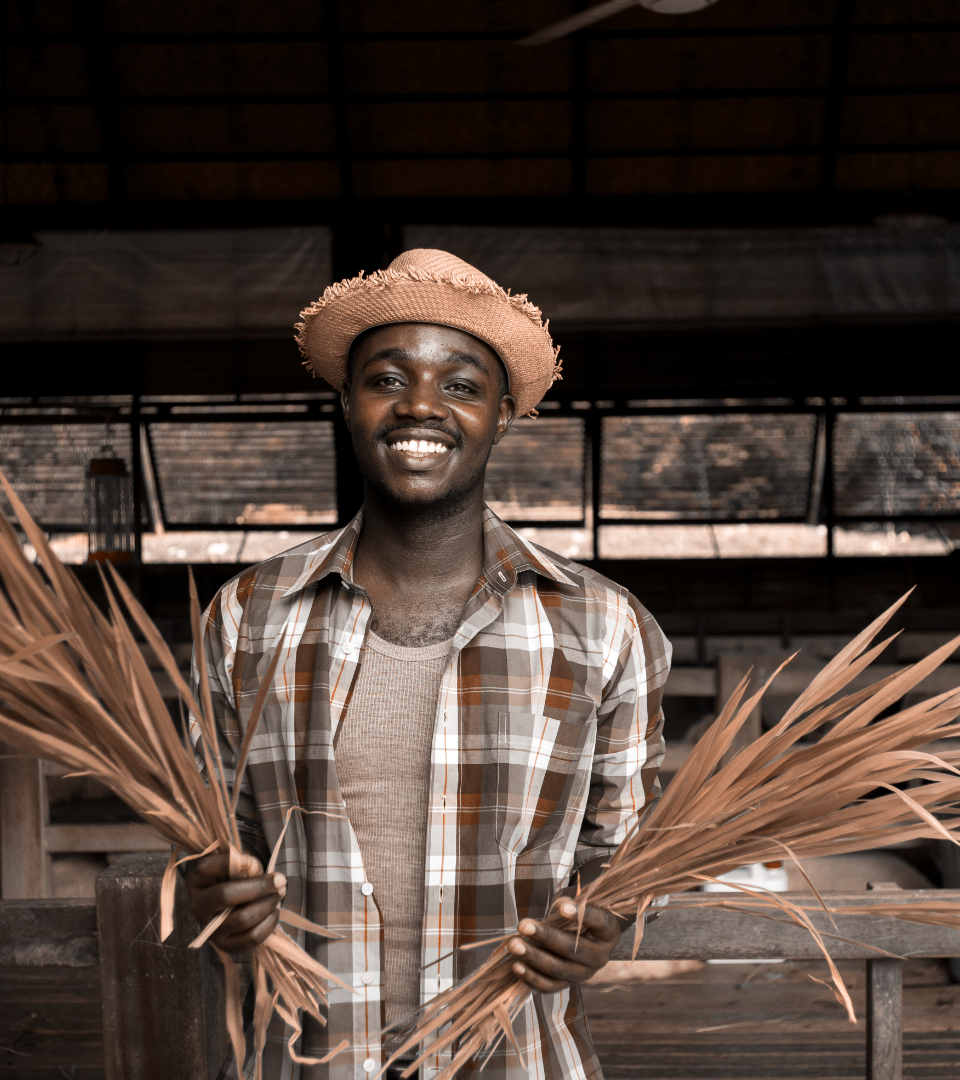 Development Impact
Framework
In alignment with the SDGs, the ITFC's 10-Year Strategy, adopted in 2017, stresses the importance of resilient, inclusive, and sustainable development to all ITFC interventions. The strategy aims to rebalance the ITFC's portfolio to better meet the demand for trade finance while reorienting its operations around holistic and integrated solutions, covering both trade finance and ​non-financial ​trade development components.
ITFC's approach to development effectiveness is embedded in its Development Impact Framework (DIF). TFC's DIF adopts a four-tier structure to assess the corporation's performance through mutually einforcing tiers: (i) contribution to the SDGs; (ii) contribution to IsDB and ITFC strategic objectives, (iii) development results; and (iv) operational and organisational performance. The framework comprises 54 indicators, distributed along the four tiers.
The ITFC DIF adopts a four-tier structure to assess
the corporation's performance through mutually
reinforcing tiers:
Refers to the DIF metrics alignment with the SDGs and connects each of the DIF indicators to one of the SDG indicators provided by the United Nations Statistical Division (UNSD).
links the DIF metrics with measurable strategic objectives such as key trade targets to be achieved by 2025 (Share of Intra-OIC Trade from 18 per cent to 25 per cent). The results at the first two tiers are actually "contributions" rather than results that can be attributed to the corporation.
indicators focus on development outputs and outcomes, which tend to be more easily measurable than others. The tier is organised around four development themes and 12 sub-themes chosen to capture how effectively ITFC is contributing towards the attainment of global goals, from the bottom-up: Inclusive Growth, Private Sector Development, Sustainability; and Technology, Skills and Innovation. Each theme and sub-theme relates to a set of specific indicators.
assesses the delivery effectiveness and portfolio management. There are no development results without an effective delivery of operations and a well-balanced portfolio. Attaining ITFC development goals requires increased resource mobilisation, improved resource allocation and more effective resource management.
Monitoring and
Evaluation
ITFC is not limited to measuring and reporting on its results but is also managing for results. This approach hinges on evidence-based decision-making to ensure that ITFC-funded operations are impactful and contributing to the SDGs. It also relies on the collection of objectives, reliable and consistent data at the appraisal phase – ex-ante assessment – and at completion – ex-post evaluations.
Making informed decisions
During the appraisal, ITFC uses an ex-ante development tool to structure and document the development rationale of a given investment by indicating how it is expected to contribute to ITFC's Development Goals. Concretely,
the DIF model rates ITFC operation based on:
Strategic alignment
Economic growth
Sustainability 
Delivery effectiveness
Financial additionality
Non-Financial additionality (Integrated approach)
Geographical and social targeting
The model rates ITFC's operational performance on a scale ranging from zero (very low) to five (very high) and the scores are fully integrated into the credit committee's decision-making.
Learning from ITFC impact

Self-assessments
At completion, a self-assessment report is submitted by the client for trade finance operations and a project completion report is completed for technical assistance/trade development interventions.  The subsequent data serves as the basis for an analysis of operational performance, which contributes to the Annual Development Effectiveness Report.

Ex-post evaluations
In 2020, ITFC adopted an evaluation policy to promote greater accountability and boost overall operational effectiveness. Evaluations are led by the Strategy and Organisational Performance Office, on a sample of operations which reached maturity, and take into consideration geographical and sector diversity. All evaluations must receive a management response and result in a follow-up report.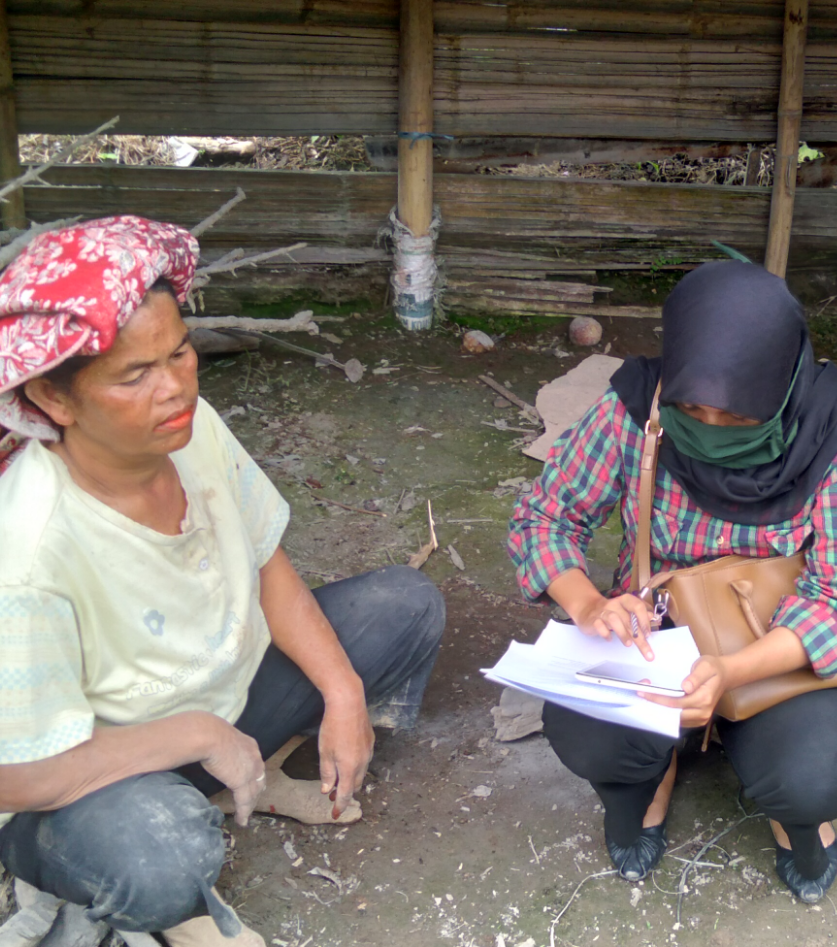 Picture: Evaluation of the Coffee Export Development Program, Indonesia
In 2020, ITFC adopted an evaluation policy to promote greater accountability and boost overall operational effectiveness
ITFC end-to-end process for
monitoring and evaluation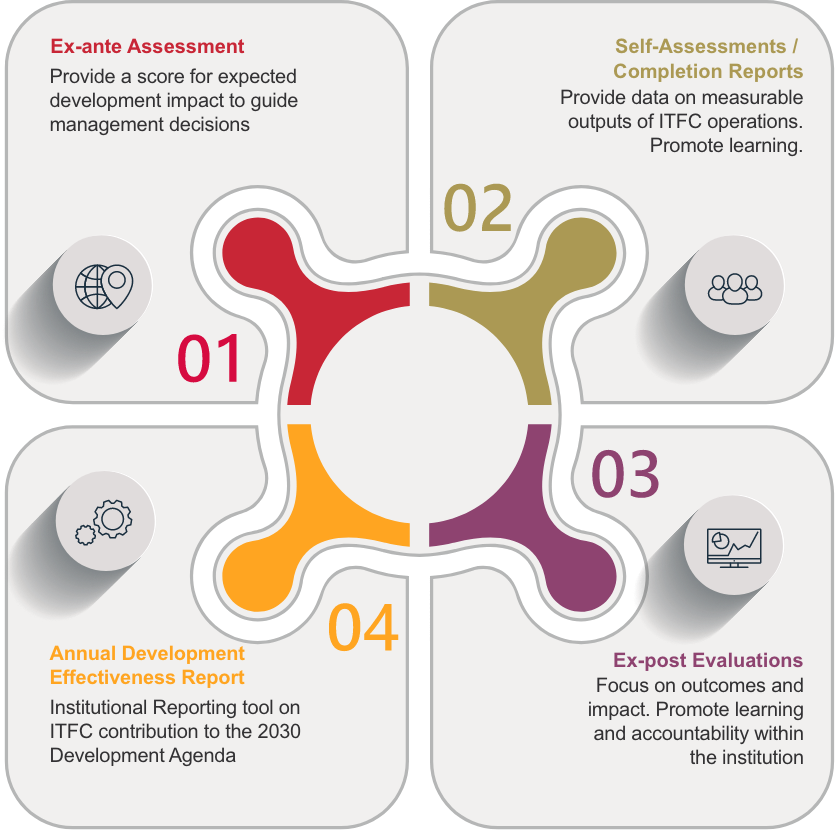 At ITFC, the SDGs and development considerations are present at all steps of the operation cycle.